Causes and Treatment of Anxiety at Night
Have you ever experienced anxiety? Do your symptoms worsen at night? Continue reading to find out its symptoms, causes, and treatments.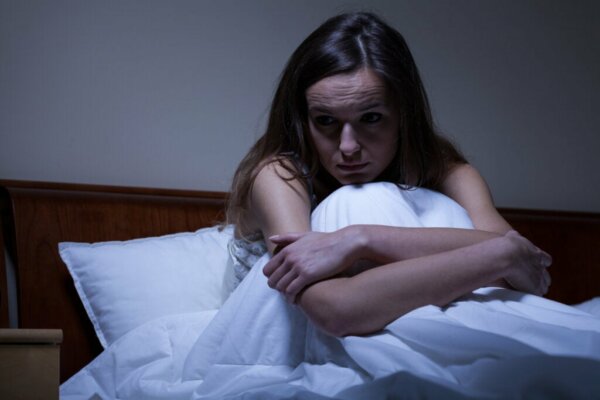 Anxiety is a disorder that affects many people. In fact, its causes and manifestations are quite diverse. Also, some people feel more anxious in the morning or throughout the day. However, it's common for those who experience anxiety at night to also experience it during the day. This is because it becomes more acute around midnight.
The mind tends to ruminate on thoughts, building up tension. Thus, it's common for anxiety to hinder rest. This, in turn, increases a person's anxiety during the day, creating a vicious cycle.
"Anxiety's like a rocking chair. It gives you something to do, but it doesn't get you very far."

-Jodi Picoult-
Anxiety
The term "anxiety" is used to refer to a symptom, a personality trait, or a disorder. Be that as it may, it's a natural mechanism that helps humans stay alert in the face of a possible threat. Thus, it allows you to concentrate and face any obstacles that may come your way.
You experience non-adaptive anxiety disproportionately to the real threat a given stimulus poses. In other words, it isn't the same to experience it before a lion in the middle of the jungle, adaptive anxiety, than in your daily life when you're overwhelmed, non-adaptive anxiety. In fact, it causes psychological and physiological alterations when it happens often and it can have serious health consequences.
The main symptoms of anxiety include nervousness, muscle tension, fear, increased heart rate, hyperventilation, sweating, tremors, dizziness, and fatigue. There's also difficulty concentrating, controlling worries, difficulty falling asleep, and the need to avoid stressful situations at a cognitive and behavioral level.
Anxiety at night
Anxiety at night can be due to various causes. Every person experiences it differently and under one or another condition. In fact, experts aren't sure of the reasons for nighttime anxiety.
However, several factors increase anxiety levels at the end of the day:
How to deter anxiety at night
As in any other type of anxiety, the main thing is to recognize you have a problem and maintain a change-oriented attitude. It's easy to overcome anxiety with some effort and the right tools. However, seek professional help to overcome it if you're not sure about the guidelines to follow.
You can definitely try it on your own. Just follow these simple guidelines. All you need is motivation and perseverance.
Some of them are:
Final notes about anxiety at night
Ultimately, anxiety at night can be very distressing and troublesome. However, following a series of simple tasks, or seeking professional help, can solve it sooner than you think. The main thing you must do is be aware and take good care of yourself.
It might interest you...